Forty-one years ago today (February 15, 1969), perhaps the most ambitious life in the sea programs in history was deployed off San Clemente Island in California.
At a depth of 610 feet/185 meters, the Sealab III project built upon the successes great success of Sealabs I and II. The project was spearhead by the US Navy, with a parallel cooperation with civilian researchers.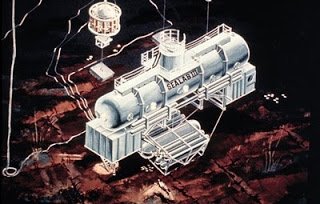 With saturation diving being relatively new, and these depths being well into the range of being considered experimental, studies of the divers' medical/physiological status were key components to the project.
Sealab III was the culmination of years of research and development by Dr. George Bond ("Pappa Topside") and his team of divers from Project Genesis (1957-1963) through the first two Sealab missions. Five teams of Aquanauts(52 in all) were scheduled to spend 12 days each in the habitat, with objectives to test new salvage techniques, and conduct oceanographic and fishery studies from a saturation environment.
Many of the individuals considered to be the pioneers of advanced and technical diving today got their feet wet in the Sealab program. Among the Aquanauts were NASA Astronaut/Navy Diver Scott Carpenter and Bob Barth, who was the only Aquanaut to dive on all three Sealab projects.
Much to the devastation of the project, Sealab III was plagued with strange problems from the beginning. The habitat leaked soon after deployment. Divers were sent to repair it via a PTC (Personnel Transfer Capsule). Bob Barth discusses the event in his "Sea Dwellers",
"Barry(Cannon) and I met outside the bell for a brief moment getting our umbilical ready for the short trip to the habitat. As we hung floating out there Berry tapped me on the shoulder and pointed in the direction of the habitat. On our first dive, we were all fired up trying to get into the habitat, and the excitement must have consumed all our need for sight-seeing. However, this time we took a moment to stop and smell the roses. Many years later, I am glad that we took that moment. What we saw is still a vivid picture in my mind. Sitting out there was this magnificent, big yellow dwelling resting comfortably on the bottom. There were many lights to illuminate the whole area, and they were all on. It was lit up like a giant ball field. Barry and I could see various outcroppings on the seabed around our future home. It was a magnificent sight to behold and something that I will never forget. Here we are at just over 600 feet swimming around in the Pacific Ocean. Not to many people had ever done that before, and to top it off we were going to be staying down here for two whole weeks. That's what our kind of saturation diving was all about."
On this very dive, Aquanaut Barry Cannon tragically died. It was later found that his breathing apparatus was missing Baralyme, the chemical necessary to remove carbon dioxide that builds up in the unit. Due to safety and publicity concerns following this incident and other mishaps, Sealab was cancelled.
This cancelled program, in fact, marked the end of the US government pursuit of further life in the sea programs. Programs in the private sector have taken place, though have been sporadic at best. There has been much speculation as to the true motives of the Sealab program, and the timing of its being cancelled. There is some evidence that the US Navy used Sealab as a platform to train special ops divers to work at depth from lock-out submarines for clandestine operations in the Cold War. It has been suggested that the cancellation of Sealab was due to the Russians learning about the new US deep reconnaissance capabilities.
Today, as I've written about so many times before, the fate of life in the sea programs has yet to be determined. Without meeting a major human need, in today's economy anyway, it is unlikely that the US government will consider a major investment. However, in pressing forward, we can't overlook the investment that was made forty years ago…by our government, and by those that died while pushing the known envelope to advance human capabilities on this planet, and beyond.
For discussion of historic life in the sea programs, with a glimpse at a future proposed program, you can view Chris Cooper's (Ocean Technology Foundation) presentation at the 2010 Northeast Rebreather & Advanced Diving Technology Workshop entitled 'Lessons learned from historic Habitat programs, and future dive systems proposed'.