Fellow readers, it's part of the realities of operating in the real world – we need monies to keep plugging along. For those of us working in the non-profit sector, not only is it difficult to raise funds, but given the state of today's economy, it's hard to even ask the question. Yet, because we believe in what we do and will work relentlessly until the bitter end, we find a means to persist.
I started this Blog as a creative literary outlet for myself, with the intent of driving some traffic and interest to Ocean Opportunity Inc., a 501(c)3 not for profit organization that I founded back in 2003, and for which I currently serve as a Managing Director. 'Support' tends to find its way to Ocean Opportunity to keep the engine running, but chasing the dream in the undersea community is an ongoing uphill battle – where despite all the sweat in the world, there is a huge amount of hardware, infrastructure, and travel that is absolutely necessary, and it comes with a pretty penny. Nevertheless, we press onward!
A well endowed philanthropist asked me at one point what I would do with a million dollars. The question came my way before OO even existed, nearly 10 years ago now, and that was my first lesson in having a good plan at my fingertips at all times…I just didn't know how to answer rationally. I answered like so many eager grassroots founding fathers would, "I would do this, and this, and this, and this, and this, and save the world while I was at it." Needless to say, no million dollar checks have ever arrived in the mail.
Oh, what 10 years and a little experience will do.
My answer today – I'd invest it. Better yet, I don't even want the million dollars. I would want my philanthropist to invest it, and send some portion of the annual dividends on over our way. As they say, slow and steady wins the race, yes? We have many lifetimes of work ahead at Ocean Opportunity, and considering what we've done with no budget, we could work miracles with the interest on a million dollar bank account – and for the long haul. Perhaps our miracle benefactor is indeed out there…
In the meantime, every now and again I have no choice but to reach out and ask for support to keep the fire burning. Every little bit helps, and goes a lot further than one might expect. Today's request is a simple one…buy a t-shirt:
http://store.ecoshirtshop.com/product/ocean-opportunity-tee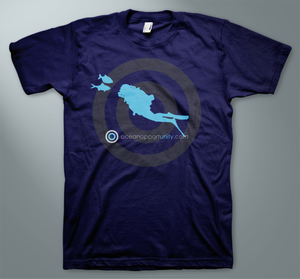 Our friends at the Eco Shirt Shop have graciously contributed the design, which suits us well. This is a limited edition run, with orders only being taken until March 1st. A significant portion of the proceeds goes to benefit OO's 2011 field programs and related outreach activities. Get yours today!
And hey – if you do happen to donate a million dollars, I'll throw in a shirt for free!
Many thanks in advance to all of you for reading and following me along in this wild journey – and for lending any means of assistance you might be able to along the way. It is so very much appreciated here, and without YOU, we would not be able to bring Oceans of Opportunity, and the promise of 'a new life in the sea' to all inhabitants of this watery planet.