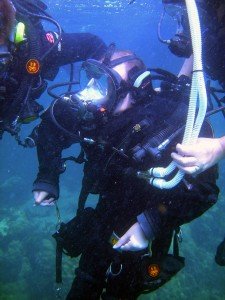 Today marks 10 years since Matt Johnston's pioneering first ocean dives in the Florida Keys – becoming the first person in history to dive while dependent on a ventilator resulting from challenges faced with Duchenne Muscular Dystrophy.
Link to Diving a Dream website
For all who have contributed in any way big or small, again many thanks. While we may have collectively given Matt his dream come true, it is the inspiration he has given us for TEN years is what is important…and a humbling reminder of what a little good will can do for someone. I vividly recall consulting with his respiratory care docs back in 2004 who gave me rather sobering realities that there was concern for Matt staying healthy enough to see his mission through, and here we are TEN years later!!!
This pioneering journey is sure to leave a lasting legacy in the community. His story reached more than 7 million viewers through the below feature from NBC's Today Show in January 2007, and has circulated through international media on multiple occasions. Among Matt's many successes include:
1st to dive while ventilator dependent
1st to dive in excess of 1 hour while ventilator dependent
1st person to earn SDI Scubility certification (#001)
authored the manual on ventilator dependent diving
Beneath the Sea Diver of the Year

Please do take a minute to send Matt a note: [email protected]. I am sure he'd love to hear from you as the winter doldrums start to roll through Minnesota.