Flipping through Netflix for a Saturday night distraction we came upon the movie 'Tiny: a story about living small'. The film chronicles the journey of building a 'tiny house' of not much more than 100 square feet as a permanent residence. I've been aware of this tiny house movement over the past several years, so it was interesting to learn a bit about the motives of those engaged in this lifestyle.
Among the commonalities between tiny house dwellers was an outwardly vocal position on our state of excess, which frankly doesn't make much sense in terms of quality of life, and perhaps even bigger picture, our [human] sustainability. My fascination with sustainability stems from time spent on Lee Stocking Island, where minimalism was the way of life. I've carried much of that philosophy back home with me, but in practice it is difficult to implement given the demands of a middle class suburban lifestyle – gone are the days of a migrant lifestyle in one's 20's. Living small yet again remains a dream, and perhaps one that will become a reality out of shear necessity.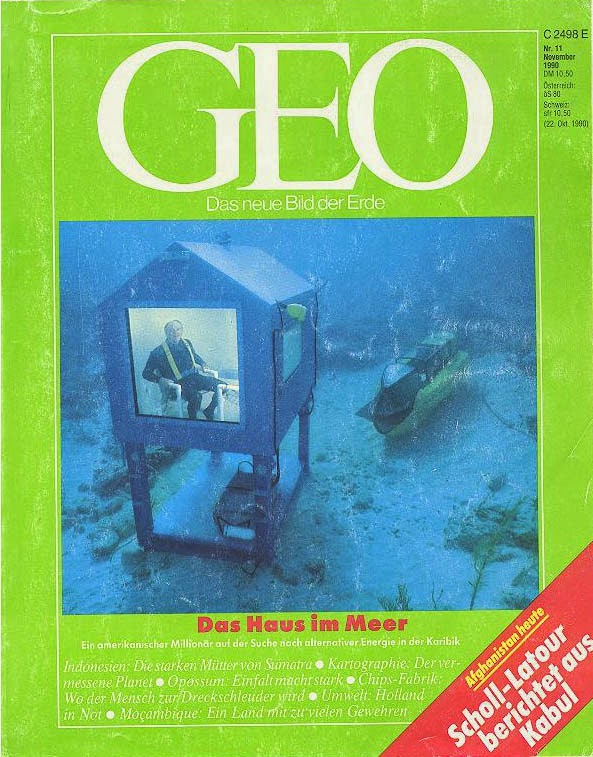 John Perry Jr. rests in a small undersea dwelling off of Lee Stocking Island, Bahamas. Perhaps decades ahead of his time, Perry developed numerous model technologies that are likely to come full circle in more modern underwater habitation.
I haven't yet evaluated the economics of living small, but I can certainly see the benefits of shaking the mortgage and the big bills in favor of going off the grid. With technology today, its easier than ever to miniaturize and take steps towards self-reliance. In many ways, these life lessons in simplicity can be found with time at sea, where mariners' entire belongings are often found within very tight quarters, and for lengthy blocks of time. The fact that living small may indeed be trickling over to the terrestrial world is encouraging, and offers the promise of returning to life in the sea with the new values needed to make undersea living practical.
The film depicts several tiny homes in the 100 square foot range. Packing all of life's essentials into a 10′ x 10′ space for comfortable everyday living is a huge step. If we can do it here in the dry, why not in the wet? That area is only about double that of the small portable habitat I developed, which would still be within the range of feasible to secure to the bottom, and reasonable to manage the atmosphere for extended periods of time.
I'm not one to suggest that we should run away from our terrestrial problems in favor of living underwater. However, I do believe that selective environmental pressures and overpopulation are going to lead to the requirement to make better use of subaquatic space in the future. To be successful, we'll need to be ultra-efficient, and there is no better time than now to begin evolving that lineage of efficient technology and living practices.
I'm unsure if a tiny house is in my immediate future, but I can say that I have my sights set on the distant blue horizon; a model of efficiency, an improved life aquatic, and a new life in the sea.


Donate today using Google 'One Today' program to help us redefine the human element and develop new content. Donate $1 today!


Because you gotta look good in the field, shop our store for OO apparel!