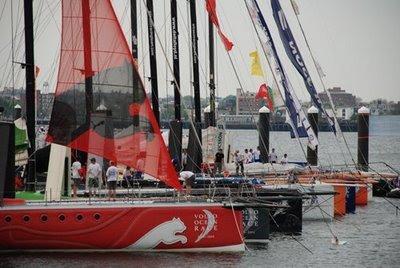 More than forty days at sea in just one leg, 20+ foot seas, racing at 30 kts…these guys are as far out on the edge as it gets.
About three weeks ago, I was involved in installing the mooring field at Fan Pier in Boston, MA – the to-be next stop for the Volvo Ocean Race. Yesterday, I ventured up to Boston to partake in the excitement of in-port racing and the festivities for the day.
Offshore racing is seemingly out of the mainstream public's eye, which is unfortunate given the undertaking at hand. Plus, this is one of the view, perhaps only, endurance sport taking palce at an international scale. These multi-million dollar boats are the fastest in the world, and take on the most hostile ocean environments imaginable while racing around the globe. The challenges are not only physical, but also technological, and psychological. The guys that crew these boats are nothing less than hardcore, and deserve all the recognition they can get.
Seeing the crew for jsut a few brief moments was all that is needed to find true value in what teh race stands for. They are poised, intense, exemplify teamwork, adn are true sportsman – appreciating and respecting the competition.
'Life at the Extreme' is the positioning statement for this year's race and sums it up well. The passion behind the race clearly seen amongst all of the teams is what lures in support. It is this motivation that needs to spill into other ocean ventures to realize success.
To the guys out there, best of luck, and safe sailing.
For more, visit www.volvooceanrace.org