Just a week ago, my travels took me through the Atlantis Resort located in Nassau, Bahamas. Those who know me well, know that this type of environment is the absolute last place on Earth where I would likely venture on my own, but with the alternative being a very long day sitting at the airport, I figured it would be worth the adventure.
In short, I was overwhelmed. Most of my experiences in the Bahamas have been in the out islands, where peace, quiet, tranquility, and a simple state of existence has a way of encouraging you to rethink life here in the real world. Walking into Atlantis for the first time, I was just shocked, as it is the antithesis of the Bahamas I have grown to love over the past decade. There were thousands of people, it was loud, and walking through the casino, I may as well been back at home in Connecticut strolling through Foxwoods or Mohegan Sun.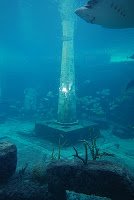 The aquarium at Atlantis, Bahamas
Now, while this environment isn't for me, there were some great things there that do represent the Bahamas well, and I can appreciate the attraction for the masses. There is a beautifully curated aquarium representing the reefs and fisheries of the Bahamas. This intertwines with a huge water-based area for relaxation and water sports recreation. Interestingly, the entire resort itself was engineered to resemble the Lost City of Atlantis, which according to a number of theories, collapsed as an empire in the Bahamas. The resort casts a Utopian ambiance built upon the local waters and water-related resources. Living the high life at the resort may very well resemble the riches of the lost city…or does it?
'Wealth' some 10,000 years ago – somewhere near the collapse of Atlantis – was quite likely defined much differently than today. Rather than bask in physical riches and incur possessions which create a public perception, 'wealth' was quite likely measured by the individual as spiritual growth and connectivity at higher psychological states. While resort life is indeed quite relaxing for some, promoting a strife towards bigger and better seems to be the antithesis of the Lost City, and in my opinion anyway – represents 'a city that has been lost'.
This is a problem that is all around us, and is the result of a global community that is dependent on physical wealth. As we take steps closer to our 'new life in the sea', we will indeed be somewhat dependent on physical wealth to engineer, construct, and maintain the structures that we will call home. However, let's not lose focus – as it is the heightened self-awareness, simplicity, and revalued depths of human psychology that will make the cultural shift possible.
While we have so very little to extract from Atlantean society 10,000 years ago to guide our civilization today, let's be sure to learn from Atlantis today as we look to what should, and needs to be, a better tomorrow. Share