I recently returned from the field, working in a remote stretch of the Exumas, Bahamas – where I consider my home away from home. The objective?
Deploy an experimental undersea habitat that, if successful, would provide for unsurpassed wet diving access to the lower limits of mesophotic coral ecosystems. As it happens, the deployment went off without a hitch, and we are confident in cracking open a fairly large nut – staring a new frontier for scientific exploration right in the face.
In very recent weeks, the undersea community suffered a major loss – the Aquarius undersea laboratory in key Largo, Florida faces imminent shutdown with its budget being eliminated. This marks the end of an era, where the push for establishing human permanence on the seafloor had risen and then fallen to this single operational habitat for science. The dream for human settlement of the ocean frontier is still very much alive – and include me in that group. The overwhelming odds in getting there are to overcome the massive financial requirement to support a permanent undersea structure. The US government couldn't justify it, and frankly, it will be difficult to justify in the private sector as well, unless…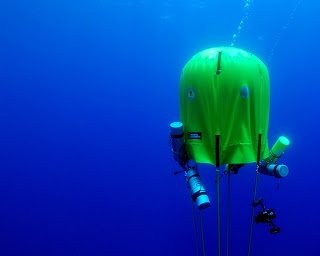 Our portable inflatable habitat deployed in Exuma Sound as respite from lengthy decompression.
Imagine a renewed excitement in ocean exploration…forget about the typical coral this or that, shark weeks, and so on. Imagine an introduction of an entirely new frontier, loaded with potential and possibilities – communicated to our global population as a source for our future sustainability! The trick remains getting there. Clearly we need improved technology, and with that comes new techniques, and a slow evolution to justify our visits. Early on, it is science; working to gather an understanding of the unknown. This would then follow with even longer forays, and possibly some isolated settlements, leading to a totally new vision for life in the sea.
It's a pretty picture, and I believe in it.
Our recent habitat deployment is a very small step; but an essential one. While many would consider 'working' to nearly 500 feet of depth impossibly efficient, and others would say possible but only with massive private sector infrastructure, I took on the challenge with something in between and said – let's apply a tool in this deep coral reef environment that let's us take just one more small step – and so we did.
What such a habitat allows us to do is increase exploration times at deeper depths from only tens of minutes, to several hours, by providing respite during the lengthy, uncomfortable, and exposed part of the dive…shallow decompression. This means more time 'working' – gathering data, and improving our understanding of the unknown. This type of portable underwater habitat, I believe, will open some significant doors in wet diving and human exploration, which will let us again the value of a human permanence on the seafloor.
Seemingly simple, but full of unforeseen challenges nonetheless. The following article from National Geographic delves into a bit more detail:
http://newswatch.nationalgeographic.com/2012/08/10/ocean-space-habitat-a-new-concept-is-born/
Enjoy!
While we have mountains to move, we have certainly broken ground, and much, much more is to come!