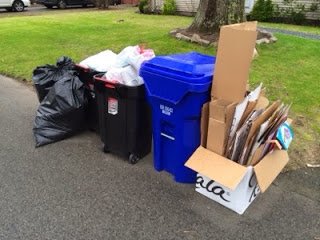 the holiday stretch aftermath
I often pride myself on a degree of minimalism. That minimalistic philosophy is derivative from many aspects of life over the years, but became deeply engrained at the early years of living this life aquatic, when it was fairly common to pack up two boxes of gear and a small backpack of personal items and be headed to some remote part of the world for several months. When returning stateside, I'd settle in to a small studio apartment, with hardly more than a futon and some floor pillows to sit on while eating dinner at the coffee table. Life was simple.
While life tends to get more complex with age, the inherent philosophy of minimalism has remained at the center of my core values in just about everything. To this day, I can rather easily pick up with those same two boxes of gear, and backpack of clothes and be headed thousands of miles away from home for several weeks to carry out a very substantial exploration diving mission. Somewhat ironically, it takes more equipment to pack up my two little ones for a stroll around the block in the middle of winter – somewhere along the line middle-class suburbia took over a big part of my practical day to day. Surely, I would not trade my current place for anything, though I have been forced to look at the bigger [global] picture as it applies to minimalism, and ultimately human sustainability, in a way that at this point has led to more questions than answers.
The following image is the 'holiday stretch aftermath' for just one week of holiday events and various musings at our place – perhaps a typical middle class suburban family of four:
Trash, trash, trash. More went out in this week's trash pickup just this week than I threw out in nearly a year of living on Lee Stocking Island where I was forced to be mindful of recycling and reusing. What was it? Mostly consumer packaging – boxes, plastic inserts, bags, wrapping products, toy packaging, food scraps, and it goes on, and on, and on. What are we doing wrong? By 'we' I mean all of us – a look down the street revealed a repeatable pattern of post-holiday waste.
First problem is where does all
the garbage
go? That needs to be tackled in a big way. Perhaps the bigger issue however is figuring out why we live like this – that is, a highly
consumer based
society that does nothing but live on excess and striving towards 'bigger', 'more', and 'better'. That just means we spend more, and ultimately put hard earned funds into levels of the system that keep driving the consumer based philosophies into our society and culture. It really makes me sick.
By nature, I've always considered myself a 'producer'. I find personal fulfillment in the
creative process
, not the consumptive process. There is an enormous rift between the two, and that needs to be closed for our world to arrive at a sustainable place for the future – environmentally, economically, politically, and for our own species health and wellness. We have so, so much work to do to get there.
What I can offer is just a little glimpse of a world that is not yet plagued with consumerism, and a world we can keep very pure – that is the 95% of living space on our Blue Planet that we have not yet settled, and has not been marred with the crippled
world view
that keeps us turning in this very
unsustainable
way.
Turning our backs on terrestrial life entirely may not be the solution, but inspiring a fresh, new start, with a new sustainable world view just might be the boost we need to get back on track. If we don't do something, the consumer factory we're all contributing to might just overrun us all, and the writing is on the wall – no one wins – in fact, we all lose – game over Planet Earth.